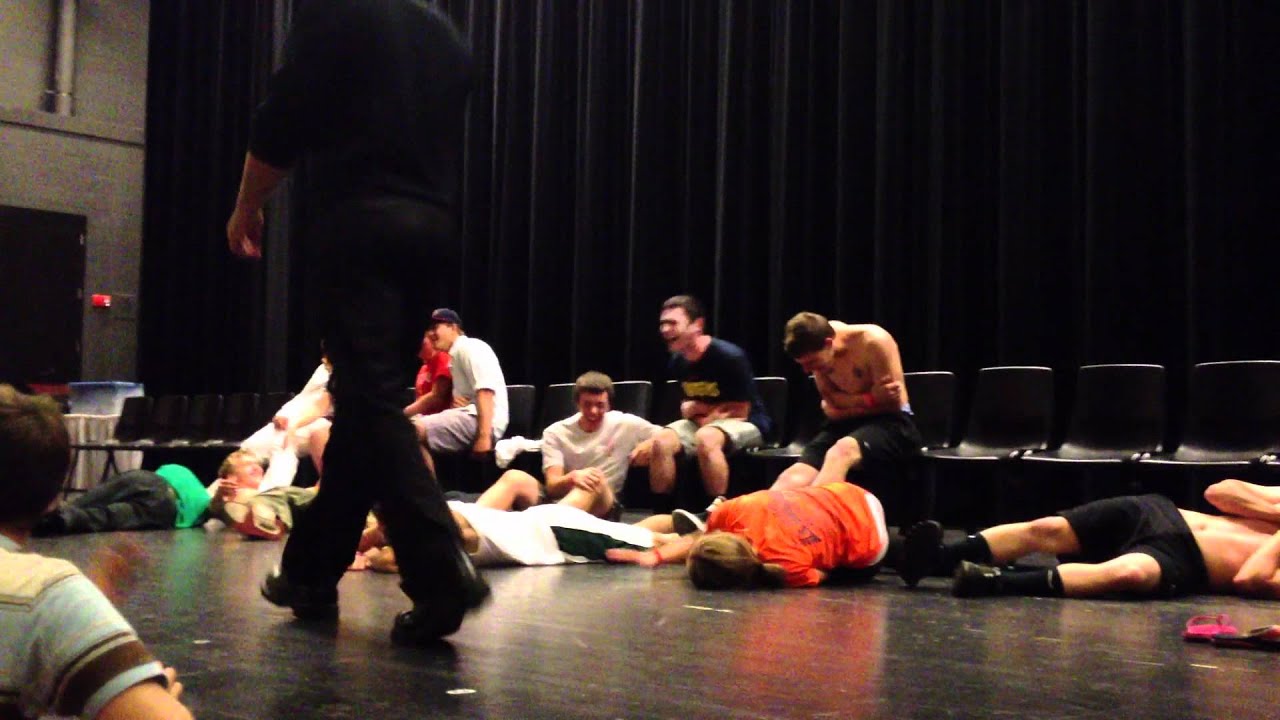 The excitement starts days before the show…
"Who's going to be hypnotized?"
"What will they do?"
"Can I be hypnotized?"
Volunteers are invited from the audience and quickly fill the 20 chairs on stage. After simple instructions, they are guided into a relaxing state of hypnosis. The audience watches in amazement. Soon the room is filled with non-stop laughter as the volunteers become the stars of the show!
An average show lasts 70 minutes but can be made shorter or longer to fit specific needs. Over the years, Jon has done shows in a wide variety of settings... auditoriums, gymnasiums, cafeterias, tents, Y.M.C.A.s, malls and even parking lots.
The show is self contained and requires very little work for the school. Most schools have an existing sound system, if not, Jon can provide one. 20 chairs are needed for the volunteers… that's it!
Although extremely funny, the show is G-Rated, non-offensive and always presented in good taste. This is one of the main reasons why Jon is re-booked year after year. Among the high school market, Jon has a 97% book back rate. Each year, Jon adds more and more schools to his roster. His show engages the student body (and staff) with fun, laughter and is a great way to build school spirit.
"The students had an absolute blast and the buzz went throughout the campus"
Lee A. Diauto, National Honor Society Sponsor, Osceola High School
"Thank you again for putting on a fantastic show"
Karen Zaremba, Psychology Teacher, Santaluces High School
"Memories that will last a lifetime"
Laura Hike, Senior Class Sponor, Riverview High School
"You were extreamly professional and we all had a great time"
Olympia Lynch, Activities Coordinator, North Fort Myers High School.
FLORIDA HIGH SCHOOL SHOW LOCATIONS ARE LISTED BELOW. OUT OF STATE SHOWS ARE NOT LISTED (THERE ARE ALOT).
Cape Coral
Vero Beach
Satellite Beach
Palm Beach Central
Port Charlotte
Riverview
Alexander W. Dreyfoos Jr.
Lake Mary
Winter Springs
Cocoa Beach
North Port
Lake Gibson
Hernando
Charlotte
Sebring
Martin County
Avon Park
Osceola
Santaluces
Royal Palm Beach Sickles Seminole Ridge
Jensen Beach Titusville Space Coast
South Fork
Okeechobee
Hernando Central
John Leonard
Freedom
Lyman
LaBelle
Stoneman Douglas
Lely
Naples
Cocoa
Springstead
Hillsborough
West Orange
Spoto
Spanish River
Wellington
New Smyrna Beach Lake Brantley
Clewiston South Plantation
Barron Collier
Hagerty
Mariner
Oviedo
Seminole
West Shore
Harmony
Temple Beth Tora
Coral Springs Charter
Brandon
West Boca Raton
Rockledge
Palm Beach Gardens
Astronaut
Eastbay
Lemon Bay
North Ft. Myers
DeSoto Lake Worth St. Augustine